Ho Ho Ho, I'm H-H-Hungry
Beth and I attended several holiday-themed events in the past week, which is part of why I haven't written much recently. On Wednesday, we went with Tavie and Stephanie to an Episcopal church on the Upper East Side of Manhattan for a choral performance. It started with a shortened version of Handel's
Messiah
, and while there was a group of singers, a lot of the audience joined in and were obviously trained singers themselves. As such, we were silent through most of that. The second part was more of a group effort, with songs that were better known and easier to sing, like "Jingle Bells," "Joy to the World," and "Jolly Old St. Nicholas." There was some multiculturalism in that the Hanukkah song was also included, although I can't say I know Yiddish. I did take German in school, so some of it looked kind of familiar.

On Thursday, we attended a Kevin Geeks Out show at the Alamo Drafthouse. There have apparently been a lot of these, which are multimedia productions that humorously analyze popular culture. This one dealt with Christmas, and included a running gag about Santa Claus getting diarrhea from the food there. Kevin Maher was the host, and there were also presentations by Ryan Arey, Chico Leo, Wendy Mays, Paul Murphy, Bill Scurry, and Kristen Scollee. I don't fully recall which person did which part, although I know Scollee was the one who discussed witches at Christmas, including the
Befana
and
Perchta
legends as well as more modern television like
Bewitched
and some British show, noting the running theme of domesticity. She has a book out that sounds interesting. Another segment looked at
the Christmas Fruity Pebbles commercial
, and the oft-discussed questions of
why Barney is willing to spend so much on costumes and props to steal Fred's cereal instead of just buying his own
, and how cavemen would know about Christmas and Santa. His conclusion about the former was that it was mostly Barney wanting Fred to acknowledge him, while for the latter he talked about the theory that the Flintstones actually live in a post-apocalyptic future, which would mean Santa survived the apocalypse but did nothing about it other than putting those who caused it on the naughty list.
This bit included some clips from a Flintstones Christmas special, which is not the same one Beth has on tape, although both have Fred filling in for an ailing Santa. Another presenter showed clips from the 1986
Babes in Toyland
with Drew Barrymore and a pre-
Bill and Ted
Keanu Reeves, which I remember seeing at least part of on TV. It's heavily inspired by the MGM
Wizard of Oz
in that the fantasy characters have real-world counterparts, and the villain's is a guy who sexually harasses his employee. There was a game where we had to ask whether a Google Image Search would bring up a picture of certain celebrities in Santa suits. Much of the audience, including Beth and me, didn't expect to see Jimi Hendrix in one, but
there he is
.
Also included were Great Moments in Bad Christmas Specials, a collection of movie clips with holiday robberies (most, but not all, including a robber dressed as Santa), a talk on Christmas novelty songs, and a run-down of the recent genre of conservative Christian films fighting against the imaginary War on Christmas. One of these last was Kirk Cameron's
Saving Christmas
, which
we watched last year
, and I don't recommend anyone else do so. I do recommend the Kevin Geeks Out show, though.
We took a bus down to South Jersey on Friday, and on Saturday we went with Beth's Uncle John and cousin Marji to see John Waters in Philadelphia.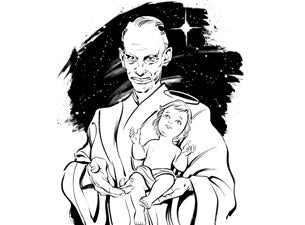 We'd been to his Christmas show a few times (that is to say Beth and I have), and a lot of it was the same, but there were some new bits to it. He talked about how he wanted more riots for Christmas, what an anarchist living creche would look like, and his idea for an amusement park with only Gravitrons for rides. Of course, his usual question about whether anyone sexualizes Santa was in there. There was a question-and-answer session afterwards.
Current Mood:
rushed